Los Angeles Pregnancy Discrimination Lawyer
Pregnancy discrimination may occur in many different ways before or after the birth of a child. Call a Los Angeles pregnancy discrimination attorney at Setyan Law for help.
Pregnancy is supposed to be a joyful part of life, and welcoming a new baby is a big step for anyone. Parents not only deserve accommodations during these times of life, but employers are legally prohibited from discriminating against them because of pregnancy or related issues. If you have faced pregnancy discrimination, contact the skilled Los Angeles pregnancy discrimination lawyers at Setyan Law. We will handle the stress of your case while you focus on your new family member.
Do I Need a Lawyer for a Pregnancy Discrimination Case in California?
You might wonder: Is there a Los Angeles pregnancy discrimination lawyer near me? The answer is Yes! Setyan Law has a team of legal professionals ready to listen to your story and explain your options.
When you call Setyan Law, you will speak directly with a lawyer. We won't pawn you off on someone else. A Los Angeles pregnancy discrimination attorney will answer your questions and explain how the laws apply to your case. We will also handle communication with your employer, filing a complaint, and pregnancy discrimination settlement negotiations. If you want the best outcome possible in your case, you should begin working with an attorney as quickly as possible.
California Pregnancy Discrimination Laws
There are two primary laws that protect people who are pregnant or have recently had children in California – the federal Pregnancy Discrimination Act (PDA) and California's Fair Employment and Housing Act (FEHA).
The PDA is an amendment to the Civil Rights Act of 1964. It applies to companies with 15 or more employees. Under this law, employers must treat pregnant people fairly. That means employers may not refuse to hire pregnant workers, pass over them for promotions, or terminate, demote, or harass them. The PDA also requires employers to provide pregnant people with reasonable accommodations similar to those provided to disabled individuals.
The FEHA prohibits wrongful termination or discrimination against any employee on the basis of pregnancy, childbirth, and related medical conditions. This applies to both new mothers and fathers who request paternity leave for a new infant, adopted child, or foster child.
California Pregnancy Disability Leave Law
California also has a Pregnancy Disability Leave Law (PDLL), which entitles people to unpaid leaves of absence from employment for up to four months for pregnancy, childbirth, and related conditions. This may be taken either before or after the birth of a child when you are unable to work for pregnancy-related reasons.
Although the law does not mandate that employers pay people for this leave time, you may qualify for state disability insurance benefits during that time. You may also be able to use sick leave or vacation time that you have accrued through your employer.
PDLL covers all employees of employers who have at least five full or part time employees. There is no eligibility requirement regarding minimum hours worked or length of service.
It is important to note that PDLL leave does not have to be taken all at once or in one block. It can be taken intermittently or on a reduced work schedule depending upon recommendation by the employee's health care provider.
Examples of Pregnancy Discrimination in the Workplace
Discrimination against people who are pregnant and new parents is illegal. It can take many forms. Some common pregnancy discrimination examples include:
Refusing to hire pregnant workers after learning they are pregnant
Failing to promote pregnant workers
Demoting pregnant workers
Discharging workers who take medical leave due to pregnancy-related conditions
Denying men or women 12 weeks of maternity leave under the Family Medical Leave Act (FMLA), California Family Rights Act, or California's New Parent Leave Act
Failing to make reasonable accommodations for pregnant workers
In addition to these actions, it is illegal to retaliate against a worker who files a complaint against an employer for violating any of these laws.
What Should I Do If I've Faced Pregnancy Discrimination in the Workplace?
If you are pregnant or recently had a child, and your employer is discriminating against you, you can take a few steps immediately. First, write down everything that is happening with details about times and dates.
Then, report what is happening to you in writing. You might report it to your supervisor or through your employer's human resources (HR) department. Keep records of everything that happens and maintain a copy of all emails and documents related to your case.
Whatever you do, don't quit your job. This will make it harder for your to win your claim or lawsuit.
How a Pregnancy Discrimination Attorney in Los Angeles, CA Can Help You
Pregnancy and new parent discrimination is illegal in California. You are protected in many ways. If you are facing any type of discrimination, you should immediately contact one of the best
employment lawyers in Los Angeles
. Setyan Law has a legal team that has litigated hundreds of employment cases. We will use this experience to benefit you.
Setyan Law has offices conveniently located in Pasadena, CA, Glendale, CA, and Cerritos, CA. We provide legal services to people in Los Angeles, CA and throughout the state of California. Call us today at 213-618-3655 for a free consultation.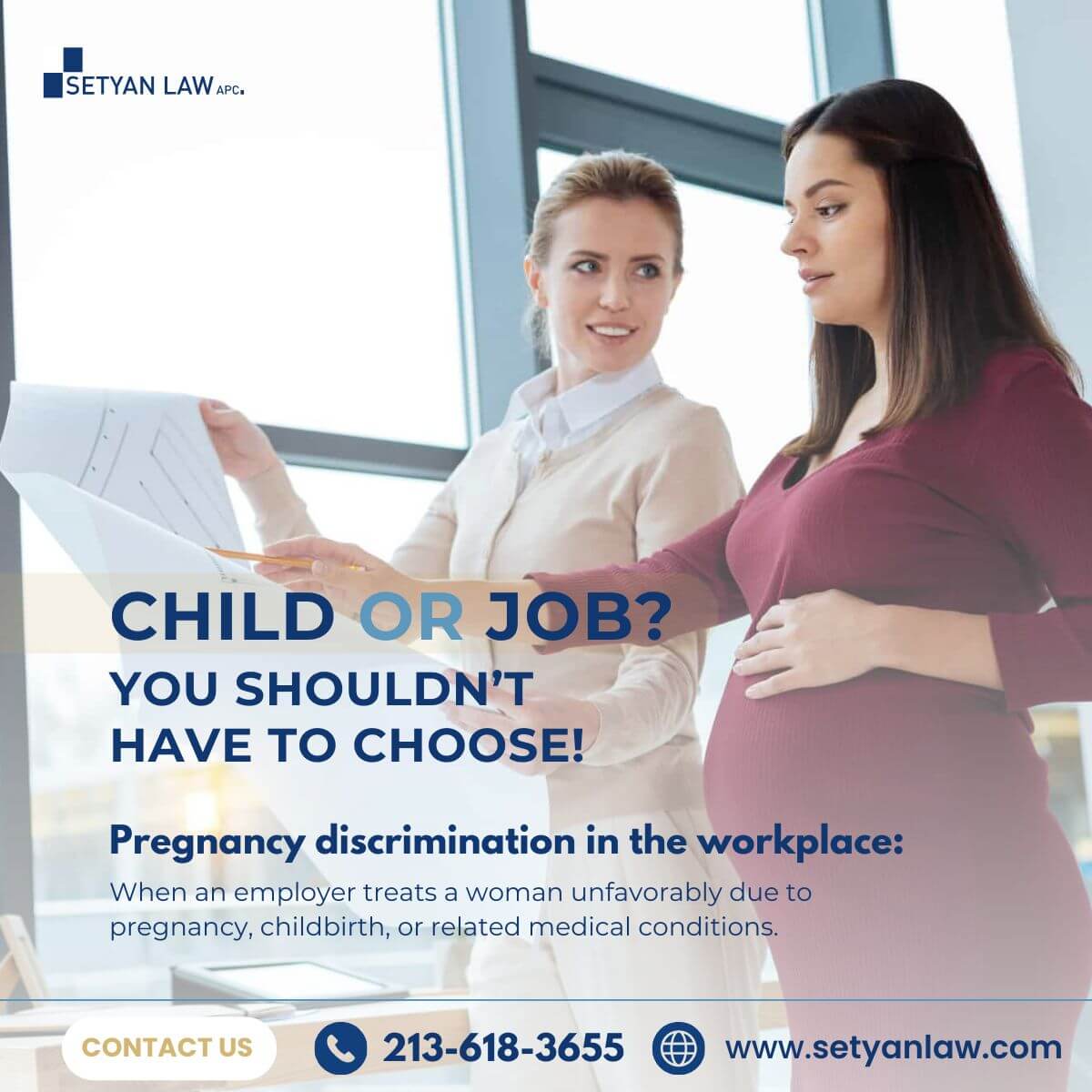 How an Employment Attorney in Los Angeles, CA Can Help You
Employment disputes are about more than winning. They often involve your livelihood and can impact your entire life. Setyan Law has a team of legal professionals and discrimination lawyers in Los Angeles, CA, Pasadena, CA, and Glendale, CA.
We will review your case, gather evidence to support your claims, and fight for you to get the justice you deserve.
Please feel free to call us for a free consultation about your rights.