California's Progressive Labor Laws
California has some of the most employee-friendly labor laws in the nation. The Labor Codes and Wage Orders that protect workers ensure the state has a reliable workforce. However, employers frequently violate California's labor laws, threatening the structure of labor in the state.
What Makes California's Labor Laws So Progressive?
There are numerous Labor Codes established by California as well as Wage Orders issued by the Industrial Welfare Commission that protect employees. California generally accepts national labor laws and then codifies laws that go above and beyond those basic protections.
For example, the California minimum wage is much higher than the federally required minimum wage. Also, California has expanded upon laws that target discrimination in the workplace. The focus on employee needs makes the state much more liberal than many others in the nation.
California Minimum Wage Law: Much Higher Than Federal
California has set a minimum wage for all the state's employees. Additionally, counties may establish a higher minimum wage for workers within their areas. An employer must pay the minimum wage that is the highest.
As of January 1, 2022, California's current minimum wage is $15.00 per hour for employers with more than 25 employees and $14.00 per hour for employers with 25 employees or less. It has increased by $1.00 per hour every year since 2017. It will stop increasing in 2023, when it will be $15.00 per hour for every employer, regardless of size.
Employees must be compensated for every hour of work and the minimum wage cannot be waived.
California's minimum wage is much higher than the federal minimum wage, which is $7.25 per hour.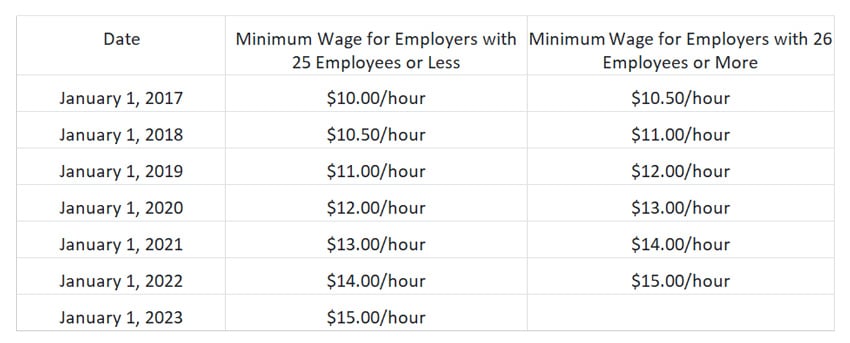 California Overtime Laws: Employers Often Avoid Paying What Is Owed
California also has employee-friendly overtime laws. Employers must comply with California overtime laws and pay employees appropriately for all work performed within the state. Overtime cannot be waived by an employee. Any agreement to do so is unenforceable according to California Labor Code Section 1194(a).
California employers must pay one and a half times an employee's "regular rate" if they work more than 40 hours per week or more than eight hours per day. An employer must pay double the "regular rate" for work in excess of 12 hours per day. California Labor Code Section 510(a) strictly mandates these rates of overtime pay.
Overtime laws only apply to certain employees. Some employers try to avoid paying overtime wages by misclassifying employees as "exempt" from overtime and paying them salaries instead of hourly pay. This is an illegal practice. If you have been misclassified as an exempt employee just so your employer can avoid paying you overtime, you should immediately contact a Los Angeles labor law attorney right away.
California Vacation Pay Laws: Not Mandatory, But Common
While California does not require employers to provide vacation time to their employees, many employers offer paid time off (PTO) in some manner. If an employer does offer PTO or vacation time, then any accrued vacation time is considered part of the employee's wages. Vested vacation time must be paid out upon separation from employment.
California Meal Break Laws: Required After 5+ Hours
California meal break laws require employers to provide every employee with a meal period (lunchtime) consisting of 30 consecutive minutes for every period of work exceeding five hours. Labor Code Section 512 mandates that those 30 minutes cannot be interrupted. Any employee working a 12-hour shift must have at least two 30-minute lunch breaks.
California Rest Break Laws: Required After 4+ Hours
California employers are required to provide every employee with a rest period of at least 10 consecutive minutes for every period of work exceeding four hours. According to California Labor Code Section 226.7, an employee who works a 12-hour shift must have at least three 10-miute uninterrupted rest breaks.
Contact a Los Angeles, CA Employment Lawyer If You Need Help
Although California has liberal labor laws that benefit employees, they are not always followed. If an employer has violated your rights, you need to contact an employment attorney right away. Your employer will hire lawyers to protect their own interests, and you deserve to have someone on your side too.
Call attorney Sam Setyan at Setyan Law at (213) 618-3655 for a consultation of your specific case.